GCI Inc. is a consulting engineering firm with its headquarters in Longwood, Florida, specializing in Program/Project Management (PM), Owner's Authorized Representative (OAR), Construction Management Consultant (CMC), Geotechnical Engineering (GE), General Consultant (GC) Services, Maintenance Management Consultant (MMC) Services, Construction Engineering and Inspection (CEI), and Geo-Foundation Engineering Services.  We have provided services on numerous roadway/bridge, railroad, and airport/airfield projects as well as water/wastewater, commercial buildings, and land development projects.
GCI's professionals have diversified hands-on practical experience, outstanding academic training, and a strong commitment to client service and technical excellence.  Our staff has a proven reputation for providing a high level of service that suits each of our client's needs.  GCI has focused on bringing on board only the highest quality personnel and has put together over the last decade a staff of highly motivated professionals. Many of our staff members have worked on a variety of construction projects worldwide.  This is a great asset for understanding the realities of the construction industry.
Expertises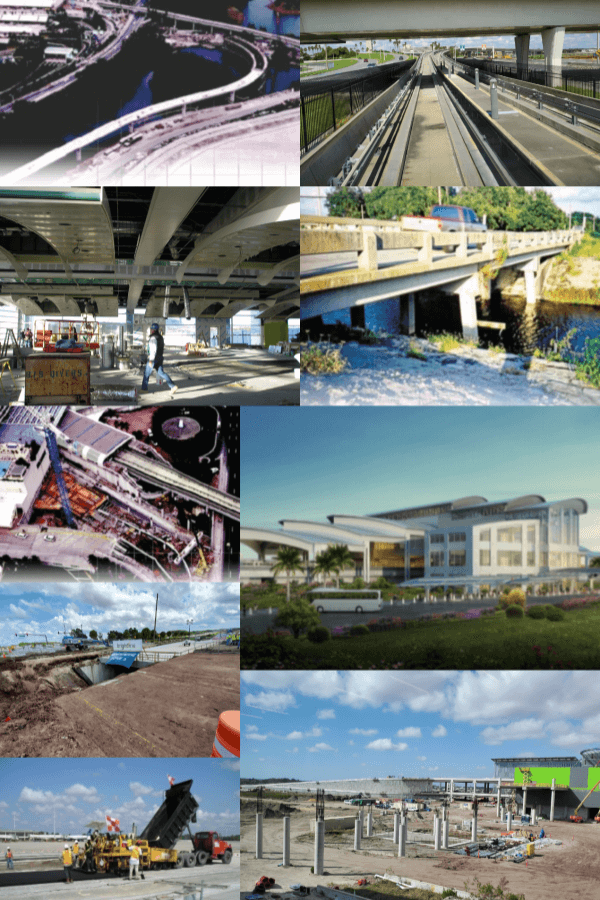 GCI has provided or is currently providing Project Management (PM) services as a Prime Consultant on numerous airport and airfield projects. We have provided Maintenance Management Consultant (MMC) services and Construction Engineering and Inspection (CEI) services for a variety of roadway and bridge projects for State and Local Governments and Tollway Agencies. We have worked on convention center and performing arts facilities, jail and corrections construction projects, and military base and aerospace facility installations.
As Owner's Authorized Representatives (OAR), GCI has successfully completed more than 500 Airport/Airfield Facilities Improvement and Capital Program projects over the past 20 years. We have over a decade of school building Program Management (PM) and Maintenance experience. We have been involved in the Florida Department of Transportation (FDOT) Bridge Scour Evaluation and Maintenance (Remediation) Program throughout the State of Florida for the last two decades, analyzing hundreds of bridge foundations for scour-related instability.
Our Geo-Foundation Services group has maintained a leadership role in pioneering many innovative state-of-the-art practices in the deep foundation design and construction industry. Areas of expertise include Characterization of Unknown Foundations, Bridge Foundation Reuse, Integrated Bridge Load Rating (IBLR) and its application to the review of scour-prone bridges and the challenges of Truck Platooning as we enter the age of autonomous vehicles. We are focused on using the best methodologies available to assure the sustainability and resiliency of the nation's infrastructure. GCI has received many regional and national awards and recognitions as a true leader of innovation in the Geo-Foundation Services sector.